I'm kinda surprised how well my JB post went over. I guess people like seeing the person behind the mask. I know I do. That's why I hang out on blindgossip.com.
Since it was so fun to write, here's another one. This one's about another notorious ESFP of my generation, Miss Miley Cyrus. I see her as kind of an inside-out version of me. I can identify with everything she does but my persona is not as "much" as hers is. Turns out we are similar personality-wise too, but with a few differences.
Resembling mine, but more identity-focused and intense, hers is...
And since I can't understand people without comparing them to myself and vice versa (must be an so/sx thing)...
Me:

7w8 4w3 8w9 so/sx
748 - The Originator. Flamboyant, cutting edge, first to see things, needs to get message out. Follows own muse, original and immovable.
Miley:

4w3 7w8 8w7 sx/so
478 - The Intense Individualist. Assertive, individualistic and optimistic. Emphasis on inspiration, freedom and diversity.
Remember that each individual type is not enough to describe someone, it's also about how they all work together. Each number is influenced by the ones that precede it.
The following quotes are from Miley's
2014 Elle Magazine Interview
:
4w3
"People have made me seem like a character. So now I'm just enjoying playing a character of myself."
"I don't understand how most pop stars live this life being told what to do, what to wear, all the time. Maybe money does mean more to some people."
"Sometimes when I'm in the studio I feel so much but don't know how to express it."
"I lost a lot of friends, 'cause my friends didn't understand why I was so 24-7 and only knew how to say what I wanted through music. I'm not a good communicator."
"[Fans] know that I've struggled with depression, and that helped them get over theirs. That gives me a big purpose."
On depression: "It's more of an issue than people really want to talk about. Because people don't know how to talk about being depressed... It was a lot to do with, like, I had really bad skin, and I felt really bullied because of that. But I was never depressed because of the way someone else made me feel, I just was depressed."
"There's not much that I'm closed off about, and the universe gave me all that so I could help people feel like they don't have to be something they're not... There's nothing worse than being fake happy."
"I'll just write a verse and a chorus, just to get me through the day."
"[On this tour] I've had people that have worked on The Wall... I try really hard to impress those dudes. I don't want them to think I'm just some dumb pop bitch."
"I don't think you can be too ashamed of anything as long as you were being yourself."
"You can ask me anything - I'll never be offended."
7w8
"I'm 21, I want to be out there drinking and hanging out, but I can't. And being on tour is totally like a drug - you're really high off the energy and then you just crash - you go from 20,000 people screaming like, 'I love you! I love you!' and then you're just in your hotel room by yourself, quiet."
"I'm always pretty much joking."
"I hear what you say and I'm gonna do the opposite. Because you're old and you're a man, and I'm young and I'm a girl and I know that's right." (also 8w7)
"I sit with a lot of old people that try to get me to explain culture. I'm like, 'I don't know how - you're just not living in the same world I'm living in.'"
"I just think old people - I feel bad that I call them old, 'cause they're probably in their thirties or forties - but they just don't understand it."
8w7
"When I do things that would get someone old to shake their head, my fans go ape shit. Like when we bend over or take our shirts off, we're giving them that freedom."
"I'm honored to be that girl that gets people out of their comfort zone."
"I tell a lot of people this, but I don't give a fuck."
"I kind of demand that people respect the fact that I'm a kid."
sx/so
"I've just got to make sure that I'm the voice of my generation. I think that I'm allowing girls to be really free with their sexuality."
"The only thing I ever really think about is with relationships, because you're getting to know someone and it gets thrown off. It becomes this [public] thing - it becomes really embarrassing."
"I'm not really trying to be sexy."
4w3, the "characters" of the enneagram
As you might've noticed, Miley is much more open about herself than Justin. Aaand here's why.
4w3
4 is about identity and self-discovery. 3 is about image projection. They're both ruled by emotions/feelings, a.k.a. heart types. Where 3w4s identify with the work they do, 4w3s use their work to express their identity. They won't compromise their identity for the sake of success. The catch-22 of that is the only way they can express themselves is through the work they do, the concrete things they add to society. They have to create a product of their emotions in order to fully understand them. Which is why a lot of 4w3s seem like caricatures of themselves (especially intense sx-doms) - their emotions rule how they present themselves to society.
4's identity is completely tied to their emotions. The emotional experiences they go through become part of their identity, and they need to be expressed through 3. This is why Miley's so open about her depression. That along with being one of the Messenger tritypes (4-7-8). She needs society to accept her identity/emotions, just like 3w4s need society to confirm their emotions/identity are authentic.
Miley looks like a 7w8 on the surface, but the quote about nothing being worse than fake happiness (7 needs to be happy) confirms she prioritizes authenticity over happiness.
7w8
7w8 needs intense new experiences. For Miley those are expressed through 4w3, or her work. All her songs about partying and lifestyle, that's all 7w8 stuff. 7w8 is a very light-hearted personality in general. Fun, doesn't take itself or others too seriously, willing to experiment. Filtered through 4w3, it allows Miley to create a huge chaotic spectacle of her performances. 7w8 likes to play with people to get reactions out of them. 8w7 does too, but it's more forceful than playful. A 487 Miley would be a much more abrasive Miley.
Miley also identifies with (4) being eternally young (7). Like I said in Justin's post, 7s are like eternal children, forever fascinated with everything the world has to offer. She demands (8) that people see her (4w3) as a kid (7).
8w7
8w7 reinforces 7w8, though her 7 always takes precedent. 8w7 is like the balls behind Miley's personality. It compels her to get out there and get her point across. 8 is a force to be reckoned with, and 8w7 actively seeks out opposition to knock down. Miley doesn't want to just get a message across, she wants you to know her intentions so she can plow through you if you oppose what she's trying to do. She doesn't just put herself out there, she purposely tries to provoke the opposition (old people) to further her cause. The more people oppose her, the more she acts out. As opposed to 8w9 who ignores the opposition until they get in their way.
sx/so
Sx-doms have an inescapable sexual aura to them. They can't help but emanate intensity, they have a very alluring quality to them. They're also the type of people you can't not have an opinion about. People who are missing this instinct (so/sp or sp/so) come across completely disconnected from their sexuality.
Sx/so variants tend to represent an extreme example of their personality. They quite literally have nothing to hide. Sx/so's send out a message with their personality. They use their personality as an agent of change. For Miley, it's about freedom of sexual expression and being true to yourself.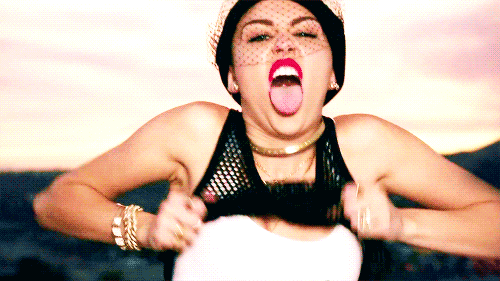 So all that said, what do we know about Miley? Well for one thing, she really can't stop, and she really won't stop. She actually is about that life. I guess you could say she's... just being Miley.